Michigan State University shooting victim Alexandria Verner remembered during Clawson candlelight vigil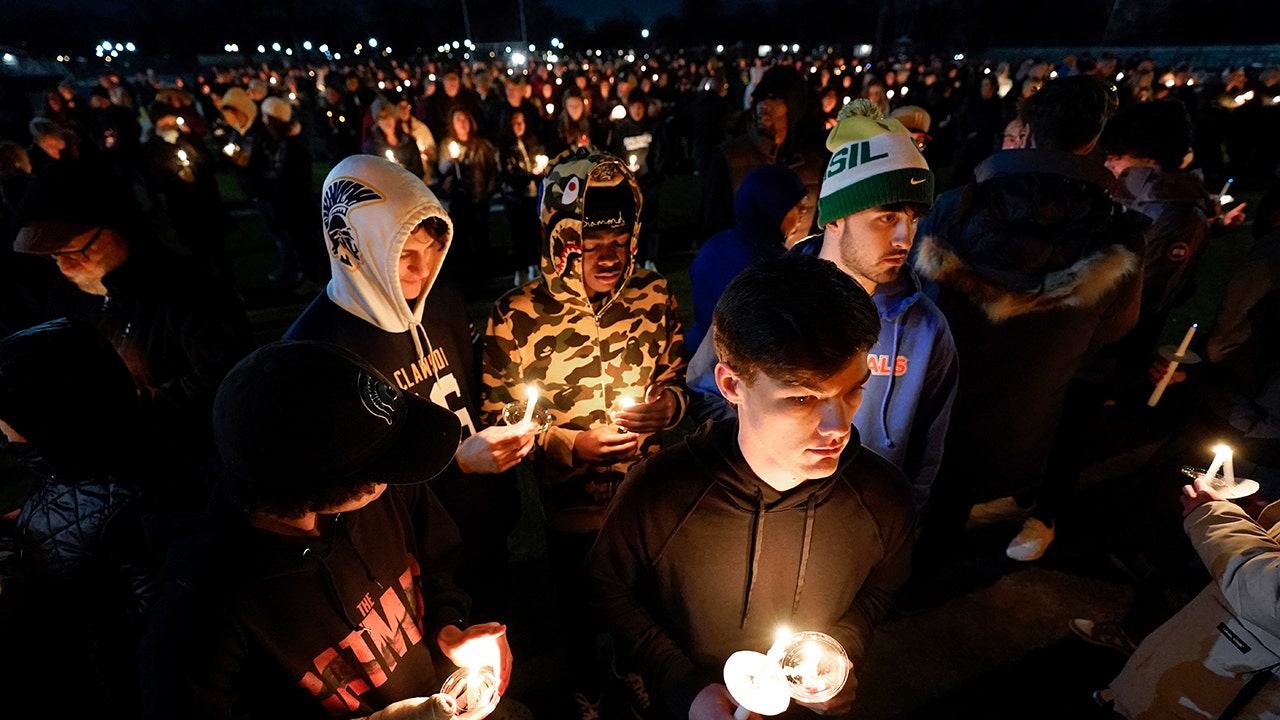 Hundreds of people gathered for a vigil Tuesday evening to honor Michigan State University student Alexandria Verner, a third-year student who was among three killed during a shooting on the campus Monday night. The shooting left five others with serious injuries.
Mourners, many wearing heavy jackets and sweaters, embraced the cold in Clawson, Michigan, and gathered together on the Clawson High School football field to light candles and reminisce about Verner, an "incredibly loved" member of the school's alumni and community.
Verner graduated from Clawson High in 2020 and she "was and is incredibly loved by everyone," district Superintendent Billy Shellenbarger said in a statement Tuesday. "She was a tremendous student, athlete, leader and exemplified kindness every day of her life."
"If you knew her, you loved her and we will forever remember the lasting impact she has had on all of us," Shellenbarger said, noting her family was "grieving but are certainly already feeling the uplifting support of this tremendous community. "
MICHIGAN STATE SHOOTER WHO KILLED 3 STUDENTS, INJURED 5 IDENTIFIED AS ANTHONY MCRAE
In a statement Tuesday, Clawson Public Schools added: "We will forever remember the lasting impact Alex had on all of us. Our hearts are shattered over the loss of this incredible young individual that we loved so much."
During the candlelight vigil, those gathered also stood in silence for 24 seconds, as Verner wore jersey No. 24 while she was a basketball player at Clawson High.
"While you are silent," Shellenbarger said over the public-address system, "think about her smile, think about that hero that was among us for 20 years."
The candlelight vigil was organized by Shellenbarger.
MICHIGAN STATE UNIVERSITY SHOOTING VICTIMS: WHAT WE KNOW ABOUT THE THREE STUDENTS WHO WERE KILLED
The school is located in a Detroit suburb about 90 miles east of Michigan State University.
According to her LinkedIn profile, Verner was studying integrated biology and anthropology.
She is survived by her mother, father, brother, and sister.
Authorities identified the other two deceased victims of the shooting on Michigan State University's campus in East Lansing Monday night as Brian Fraser, a second-year student who attended Grosse Pointe South High School, and Arielle Anderson, a junior who graduated from Grosse Pointe North High School.
MICHIGAN STATE UNIVERSITY GUNMAN HAD FELONY CHARGE DROPPED IN 2019
Fraser, the president of Michigan State's chapter of Phi Delta Theta fraternity, was remembered as a "leader" who "cared deeply about his Phi Delta brothers," the fraternity said.
"Brian was our leader, and we loved him," the group said. "He cared deeply about his Phi Delta brothers, his family, Michigan State University, and Phi Delta Theta. We will greatly miss Brian and mourn his death deeply as our chapter supports each other during this difficult time."
Anderson served her community and prioritized helping those around her, her family said in a statement that described her as "sweet and loving" with an "infectious smile."
"As much as we loved her, she loved us and others even more," the family said. "She was passionate about helping her friends and family, assisting children and serving people."
CLICK HERE TO GET THE FOX NEWS APP
Police identified the gunman as Anthony McRae, a 43-year-old with no affiliation to the school. He opened fire inside an academic hall and student union building shortly after 8:00 p.m.
Five people remain in critical condition following the shooting.
Fox News' Paul Best and The Associated Press contributed to this report